Carter Information Solutions, Inc. has been working hard to enhance your customer service experience and to improve upon the manner in which your network helps you conduct business. Technology is the number one budget item after human resources, yet it is the least understood. Allow us to use our expertise to help you reduce your maintenance costs and increase the service quality and reliability of your IT infrastructure.

One of the major challenges in maintaining a computer network is trying to predict what will fail and when. With CISI's Proactive Managed Service Solution, we can prevent many network failures from ever happening. By combining regular preventative maintenance and comprehensive real-time monitoring of your critical network and desktop devices, we ensure the reliability and stability of your IT assets. This solution is so effective; our customers see almost immediate results with their computer networks. A regularly maintained network means fewer failures, yielding higher productivity and savings on support costs for your company. At the same time, your exposure to security risks is dramatically lessened, and frustration from unstable IT resources almost vanishes. CISI allows our customers to focus on their core business functions by taking the worry out of focusing on their computer network.

Contact CISI today to find the proper maintenance package for you!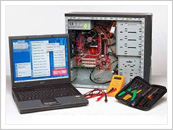 Would you run your vehicle 100 thousand miles without changing the oil?
Much like the necessity of performing regular automotive maintenance, regular computer maintenance can assure your computer systems are running at their optimum potential.
Did that wet spot just appear on the ceiling or could the roof be leaking? Would you check it?
Many problems can be found and corrected before any problem causes serious damage to your system.
Wouldn't everyone like to have their car for 300 thousand miles or more? It's possible with proper maintenance.
Performing regular system maintenance can increase overall system performance and in some cases furthers your computer systems' lifecycle.
Could you survive if your car was in the repair shop for more than a day, a week or maybe even a month?
System downtime can also cause major business repercussions; in many cases lost revenue. Most businesses do not account for lost revenue. Does yours?

Monitoring with Reporting for existing IT Departments
24/7 Monitoring and Preventative Maintenance
Remote Maintenance Services
Onsite Maintenance Services
Rapid Diagnosis using Remote Monitoring
Managed End Point Security
1 Hour Help Desk free per incident
Comprehensive Reporting and Analysis
Greater transparency into IT Performance and Planning Predictable IT Budget
Vulnerability Management
Wireless Networking

"To provide organizations with predictible, business-focused IT services that optimize operations, manage risk and deliver measurable business value."

DC Metropolitan & surrounding areas